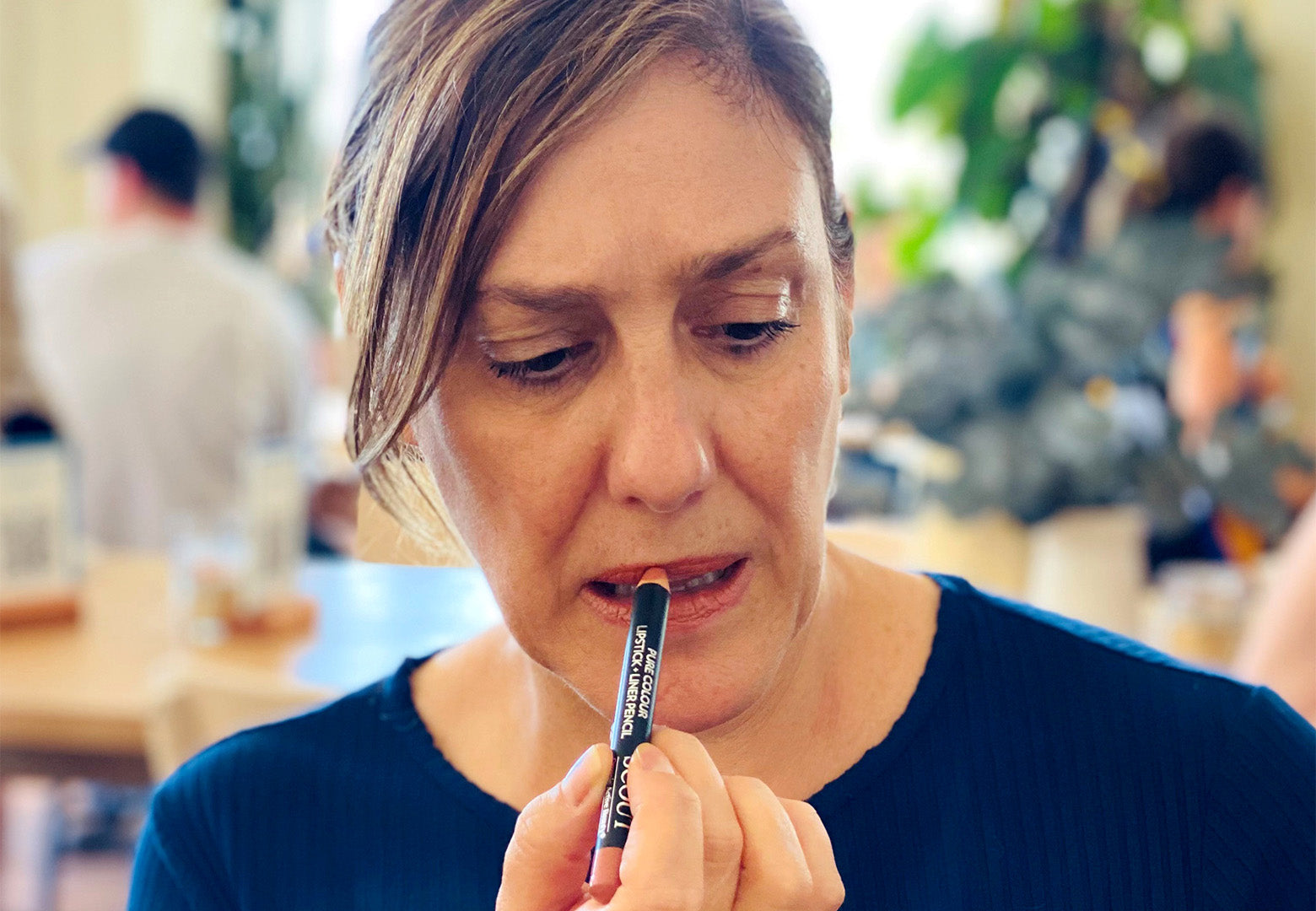 How to apply Lip Liner
Want to know how to apply Lip Liner?
I like to think of Lip Liner as a primer.
A makeup is not complete without giving the right shape and colour to your lips.
A lip liner is used to give your lips a neatly defined border and is really worth the small effort it takes to apply.  
It is applied before applying lipstick as it works as a guideline and prevents the colour from moving out of the lip outline. 
For everyday use, a lip liner should be the same shade as the lipstick you use or neutral.
Applying Lip Liner
Apply all other makeup before putting on lipstick and lip liner, then:
- Make sure your lips are free of any traces of lipstick or gloss;
- If the pencil is too pointy, rub it gently on a tissue till you get a slightly rounded shape of its point
- Draw the outline of your lips to form the desired shape. The line should be thin and close to the natural lip line
- Using feathery strokes, start from the centre of the upper lip and draw towards each corner. Do the same with the lower lip 
- Connect the lines together to form a smooth profile. And always blend downward as blending upward makes liner more likely to bleed; I don't like harsh lines, so it's a good idea to then colour in the lips using the lip pencil
and finally,
- Apply lipstick covering the area within the outlines and ensuring the lip lines are not visible after applying lipstick.
Lip Liner Tips and Tricks
You may find the following ideas worth a try:
- To give thin lips a fuller look, use a lighter shade for the lip liner pencil. The line should be drawn slightly past the natural lip line;
- To give the lips a lusher look, you can blend the edges using a sponge applicator. Applying gloss completes the process.
- For making your lips appear smaller, apply the foundation over the edges of your lips and draw the lip shape with a liner just inside your lip line. Apply lipstick over this.
- Avoid lip liner colour that is darker than the lipstick colour. The lipstick begins to fade as time passes, and the liner stays intact exposing the odd line around your lips.
- Remember to touch lips up after a meal, as lipstick easily transfers onto coffee cups, water bottles, and wine glasses.
SCOUT Pure Colour Lip Liner Lipstick
To enhance our busy lives, we formulated our liners to have major staying power  and be easy to apply and multi-purpose.
So you get a super cool dual purpose lip liner and lipstick pencils in three beautiful shades.. 
Certified Organic and infused with nourishing Coconut oil and conditioning Rapeseed oil rich in Omega 3, 6 and Vitamin E, hydrates the lips throughout the wear.
The addition of Rice Bran, Castor, and Sunflower Oils moisturises, nurtures and repairs your lips, for a supple, creamy semi matte finish.
Our lip liner lipstick is:
- Certified Organic Ingredients
- Creamy long-lasting, glides on for stunning finish
- Clean & Fragrance-free formulation
- Cruelty Free
Not just a Cosmos Certified formulation but also the pencils are encased in sustainable certified wood and sustainable water-based varnishes with environmentally friendly caps.
Sylvie xx