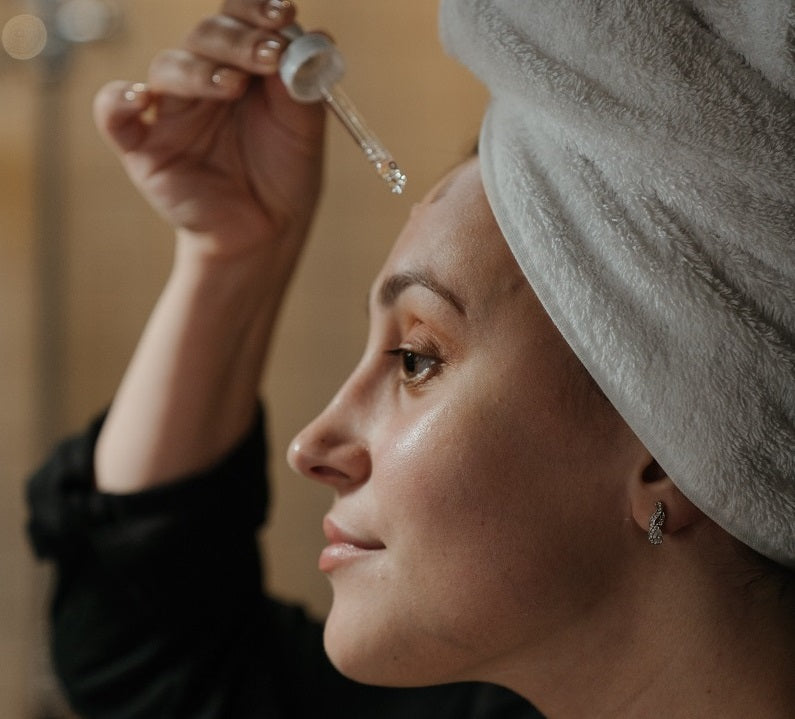 Why Serum Is The Most Potent Skincare Product in Your Beauty Routine
In the last few years serums have found their way into our skincare routines, which is great, but many people are still unsure of what exactly a serum is, what does it do and how to use it.
And it's completely understandable as so many questions arise when standing in front of that fully-stacked shelf. Which one should I get? Should it be used in the morning or at night? Do I apply it before or after moisturiser?
Before we dive in, we must say this – serums are true heroes and game-changers in any beauty regiment. If chosen right, they provide a wide range of benefits from hydration and nourishment to healthy aging and anti-acne properties. 
Serums are also an incredible remedy for people with dry skin.
So let's take a closer look at what serums are and how can you get the most of them for your beauty and health.
What's a serum?
So, what's a serum? Shortly, it's a topical, liquid product that contains highly concentrated amounts of different active ingredients that penetrate the skin relatively easily and provide high efficiency. Because of the quick absorption, serums give us the desired benefits faster than most other products.
However, while serums are potent, it's still recommended to complement their use with other products such as moisturiser and night cream. More about that later.
Types of face serums
When you come to the store and see shelves stacked with serum bottles, you might experience a momentary sense of overwhelm. What's all this? Which one should I get? Are they all the same? 
To cut to the chase, no, they're not all the same, though many serums might have overlapping effects and benefits. 
Serums generally can be organised by which problem they solve, and that's also the easiest way to choose which one's best for you. 
Here are the most common types of serums based on which skin goals they achieve. 
Serums for dry skin 
Dry skin is a pervasive issue, and that's why adding a serum to your skincare routine is very beneficial. You want a serum with such ingredients as hyaluronic acid and other humectants like glycerin, betaine and panthenol. They draw moisture from the air and infuse it into the skin.
Hyaluronic acid is the most powerful ingredient here as it temporarily binds water in the layers of the skin and makes it more radiant, glowing and fresh. According to medicalnewstoday.com, it can increase skin moisture and improve the quality of life for those with dry skin.
Healthy Aging serums
Serums are potent for preventing premature aging and slowing down aging signs such as pigmentation, wrinkles and fine lines. These serums usually contain ingredients that encourage skin renewal and collagen production. 
You'll find peptides, retinol or bakuchiol, peptides, hyaluronic acid, niacinamide, Vitamin C, and grape seed extracts on the ingredient list. 
Shop Cell Renewal Peptide Serum with Green Tea, Ginseng and Fig
Skin-brightening serums
Glowing skin is a dream, and serums can help you reach it. Brightening serums usually include various antioxidants, vitamin C, alpha hydroxy acids, kojic linoleic and hyaluronic acid. Some products will also have licorice root, mushroom extract, Australian Emu apple and other natural ingredients.
Acne and sensitive skin serums 
Yes, you can have acne even if you're not a teenager. Luckily, some serums can help combat it. Look for serums that contain salicylic acid, hydroxy acids that exfoliate the skin's top layer and unclog the pores. 
Vitamin C is also a common ingredient as it can help fade acne scarring and improve skin tone. Lastly, niacinamide is a soothing, hydrating, and anti-inflammatory ingredient that helps soothe and calm the skin.
Serum benefits 
While the specific serums help for different issues and skin types, they have many other benefits. Let's look at some of the most common serum benefits. 
Hydration, hydration, hydration 
Whether you have dry, normal or oily skin, you still need to hydrate it. Moisturisers do their part, but serums get much deeper than that. You'll be hydrated all day long without needing to reapply the product.
In combination with moisturiser, you've got a double whammy for dry and dehydrated skin.
Nourishes the skin
Serums work deeply, and that's why the nourishment for the skin they provide is so powerful. Serums soothe the dry, sensitive patches of skin without drying the skin out. They work even for skin prone to outbreaks, acne and allergies and leaves the skin soft. 
Boost collagen
Collagen is crucial for our skin to stay healthy and plump, but with time skin naturally starts losing it, as its production slows down, resulting in fine lines and wrinkles. 
Serums, especially those with peptides, can help boost collagen production, hydrate the skin and make it less prone to wrinkles, dryness and dullness. Your skin will look more radiant and fresh, smoother and glowing. 
Protection from the elements
Just living our regular lives affects our skin (annoying, we know!). Sun, wind, pollution and other factors often damage our skin, but a serum can protect you from free radicals that cause premature aging and damage. 
These protective serums usually include antioxidants like vitamin C, vitamin E, green tea, resveratrol. 
Quicker results 
It can get a little discouraging to wait for the results of that moisturiser you bought a few months ago because it takes a while for them to be visible. Serums are absorbed better; hence they deliver results quicker. Yay! The high concentration of ingredients also is more powerful, so you will notice the benefits already after a couple of weeks. 
Doesn't clog pores
For many people, various skincare products, especially if they're oil-based, cause clogged pores. However, though serums are oil-based, it doesn't happen as the product's very thin and very light, so it doesn't leave any greasy feeling at all. 
And yes, even if you have oily skin, you can still use and benefit from oil-based serums! Your skin actually needs oil, as the lack of it overcompensates with excessive production. It's a vicious cycle! 
Calms sensitive skin 
Sensitive skin can result in redness, irritation, itchiness, or rashes which nobody likes. These symptoms can be exacerbated by wrong skin care products, sun and other environmental effects.  
A serum can help protect your sensitive skin from all that and calm it down. It can also reduce inflammation and irritation, soothe stressed or sensitive skin and restore the protective barrier. 
Helps you look younger 
It is completely normal to age, and we all will if we're lucky. But, let's be honest, aging signs like wrinkles, age spots and fine lines can be annoying. Adding an healthy aging serum to your daily beauty regiment 
Serum can help reduce visible aging skin signs like smile lines, pigmentation, fine lines and eye wrinkles. 
It can also help plump your skin, make it more radiant, and help you achieve a dewy complexion. 
One of the most powerful ingredients in healthy aging serums is retinol, but be careful when starting with it because it can be too harsh and strong. 
Shop Vitamin C Brightening Serum with Kakadu Plum, Turmeric & Rosehip
Fights blemishes 
If you've ever had acne, you know how frustrating it can get. Whether it's light or severe, acne blemishes are never great, and we want to do everything in our power to get rid of them. And even when the acne horrors are over, there still might be blemishes and scaring can be left. Oh, boy!
Some other types of blemishes can also occur from allergies, sun exposure and are non the less upsetting. 
That's where a serum can be a true lifesaver and a straight road to healthier skin. 
How to use serum
As you can see, serums are truly heroes of our skincare. But even if you feel tempted to ditch everything else, we recommend making them a part of your routine and not a standalone product. 
So how to incorporate a serum into your beauty regimen? 
Firstly, because the serum is lighter and usually the most potent product, you should use it first after you've cleansed your skin with a face wash and used a toner. 
Once you've done that, you want to apply your moisturiser, which will help seal it and add additional benefits. 
Your sunscreen and makeup go on top of that.
Now, most serums will have instructions on when to use them, so make sure you do your research or consult your dermatologist. 
Depending on serum and its strength, you'll use it once, twice a day or only a few times a week. For example, retinols are very strong, so you will want to use them less often.
SCOUT'S
Cell Renewal Peptide Serum
Here at SCOUT, we focus on creating powerful, natural skincare products, and one of them is our luxurious Cell Renewal Peptide Serum with Green Tea, Ginseng and Fig. 
It hydrates and plumps the skin, fights the first signs of ageing, prevents fine lines, wrinkles, pigmentation and strengthens the skin's defence barrier. 
The serum contains potent peptides such as Perfection Peptide 7 and Matrixyl Sinthe'6, which boost collagen production, smooth deep wrinkles, and replenish the skin's lipid layer for an overall perfected and refined skin texture. 
It's very easy to add the serum to your daily routine. Just press a few drops into cleansed face, neck and décolletage until absorbed and add your favourite moisturiser.
Order your SCOUT'S Cell Renewal Peptide Serum NOW.