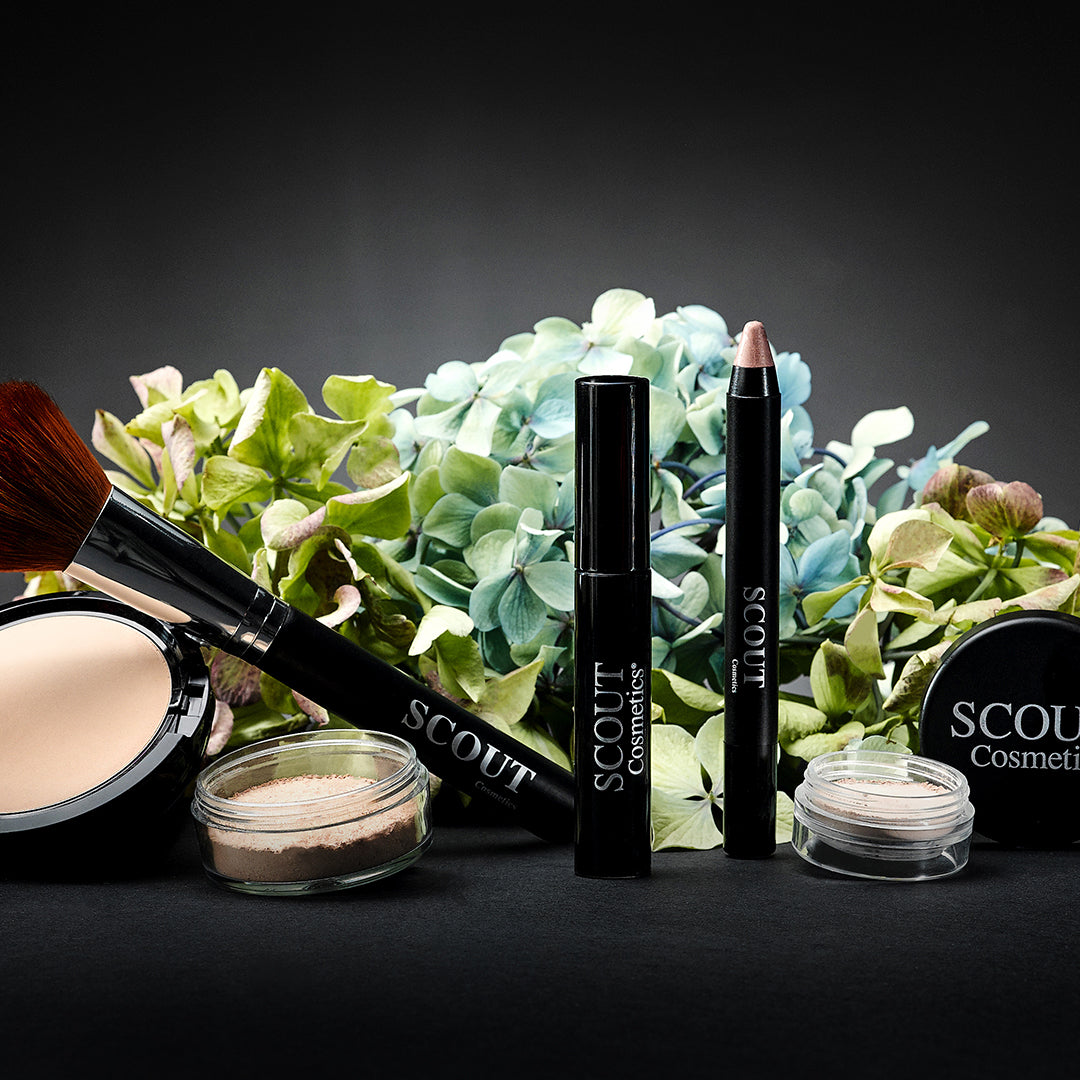 4 Winter Makeup Tips for Glowing Skin
While long summer days are now a thing of the past, it doesn't mean that healthy radiant skin has to be as well.

I am a huge fan of an illuminated and dewy complexion throughout the year, and to help you maintain your summer glow, I wanted to share my top tips using our SCOUT Mineral Makeup range.
Avoid Full-Coverage Matte Foundation
The key to luminous skin starts off with the correct base.

A common mistake many people make in winter is being too heavy-handed with foundation. Instead, skip a full coverage matte formula, and choose a light fluid or crème foundation to help keep your skin hydrated and natural-looking, such as our Organic Healthy Glow Fluid Foundation or Crème Compact Foundation.

If you prefer a more sheer finish, why not try mixing a few drops of our Fluid Foundation with your favourite face cream to create your own tinted moisturiser.
Use Highlighter in the Right Places
One of my favourite ways to achieve an all-over glow is to use a powder highlighter like our Pure Colour Mineral Illuminate all over the high points of your face.

Using our vegan powder brush, lightly dust the Illuminate powder over your cheekbones, down the bridge and tip of your nose, and over your brow bone. Our Illuminate is perfect for this look as it is not shimmery or frosted in finish, but will instead give an overall natural radiance.

For an extra hint of luminosity, add a touch of Illuminate to the inner corner of your eye and a light wash across the middle of your eyelid to brighten up your eye area – but remember, less is more!
Warm Up Your Complexion with Bronzer
In the cooler months it is important that you don't forget all about your bronzer – just be sure that it is a shade lighter than your usual summer one!

This is why we have two shades of Pure Colour Mineral Bronzer; Summer and Winter. While both are ideal for creating a healthy sun-kissed glow, our Winter shade is slightly cooler in tone to help create a natural soft definition to your face.

Lightly feather your bronzer over where the sun would naturally hit your skin - your forehead, down the sides of your nose, under your cheekbones, across your jawline, and down your neck, ensuring that you are blending it carefully as you go.

If you are wearing a low neckline top, apply the bronzer along your collarbones too.
Don't Forget to Add Some Blush
While blush is the perfect way to add a fresh flush of colour and boost a winter complexion, take it a step further by mixing a little blusher in with your bronzer to give the appearance of rosy, sun-flushed cheeks.

Take your favourite Pure Colour Mineral Blush (mine is Demure) and mix a little in with our Pure Colour Mineral Bronzer in the shade 'Winter.' Then using our Powder Brush buff this combination over your forehead and cheeks with a light hand and slowly build up to your desired intensity.
For more information on our Mineral Makeup range and how to keep your skin healthy and vibrant this winter, be sure to follow us on Instagram and Facebook.
How do you like to keep your skin looking healthy and luminous?
- Sylvie Hutchings, Creative Director & Founder, SCOUT Cosmetics