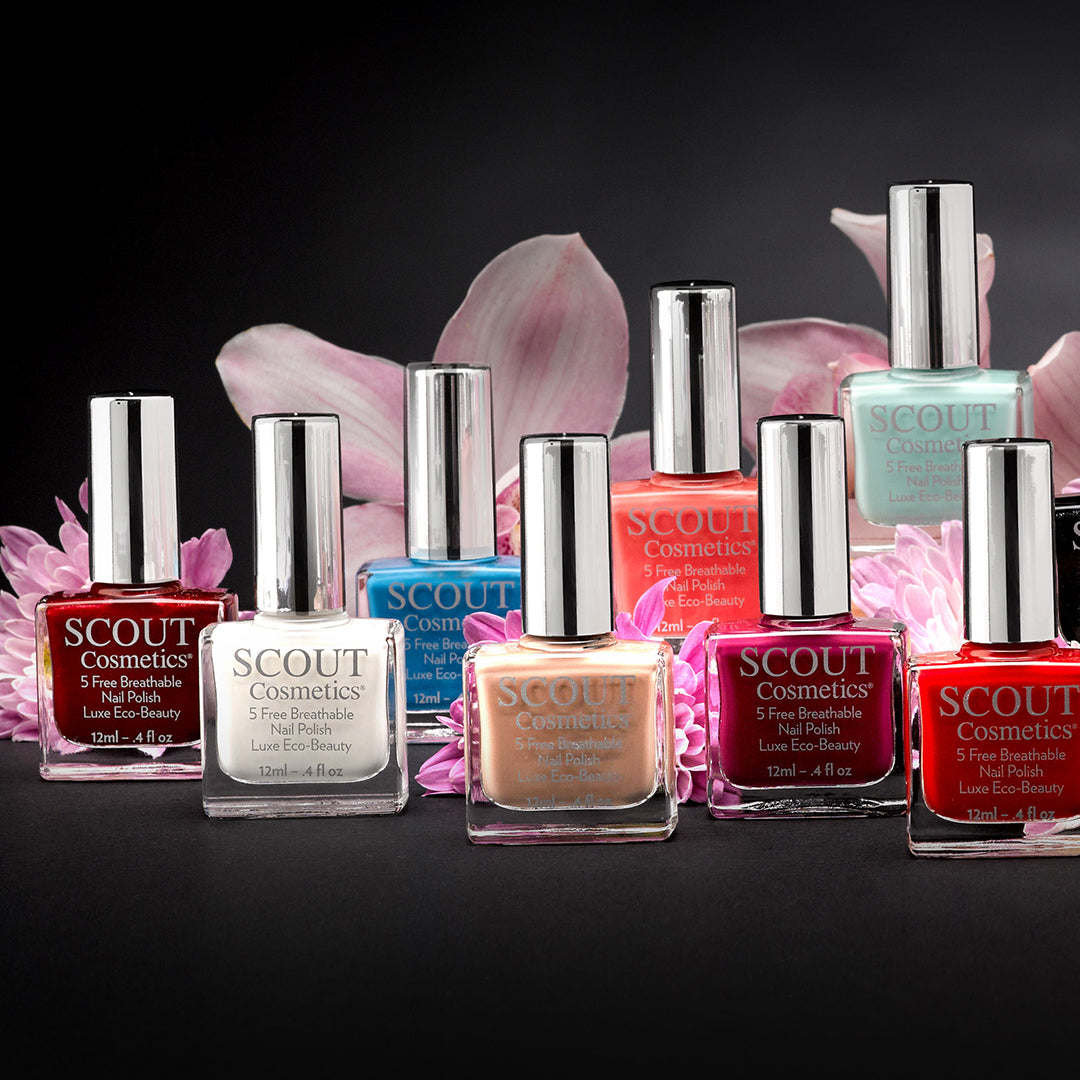 Make Your Nails Stronger with Natural Nail Polish
My goal with every SCOUT product is to offer our customers the highest quality natural and Australian-made cosmetics. As innovators, we are always looking for ways to improve our formulations and utilise emerging natural ingredients.
With this in mind, I am very excited to introduce our brand new Breathable Nail Polish Formulation. This updated formulation is infused with additional Super Food ingredients, vitamins, and botanicals to help nourish, hydrate, and revitalise your nails.
Natural Nail Polish Ingredients
The new and improved organic nail polish formulation features a range of nourishing ingredients including, Broccoli Seed Extract, Bamboo Tree Extract, and Camelia Seed Oil, all of which possess impressive benefits, such as anti-fungal properties.
Utilising pressed extraction techniques, we were able to harness the superb natural power of an array of Super Food ingredients. Broccoli Seed Extract is known to be rich in vitamins A, B, K & E and contains up to 100 times the antioxidant compounds of broccoli, which assists in moisturising and hydrating the nails with outstanding water retaining properties.
Touted as nature's alternative to silicone, Bamboo Isoflavones was chosen due to its highly potent antioxidant profile. Delivering impressive nutrients to the nail, Bamboo Isoflavones help to boost resiliency, while delivering shine and vibrancy of polish colours.
Rich in Omegas, fatty acids, and numerous healthy aging polyphenol antioxidants, Camelia Seed Oil is an excellent all-round moisturiser for the skin and cuticles. We use the cold-pressed variety in our natural nail polishes to ensure that it maintains a combination of powerful bio-active compounds to penetrate the nail and provide nourishment and hydration to the skin and cuticles.
Breathable Formulation
Our breathable formulation, allows oxygen molecules to reach the nail bed, even through multiple layers of polish. This keeps the nail bed hydrated and healthy, preventing them from becoming brittle and weak due to a lack of oxygen.
For the best results and greatest durability when using your SCOUT Breathable Nail Polish, we recommend starting with our clear Dual Base & Top Coat to create the perfect surface for applying colour. After applying your favourite coloured SCOUT polish, add another layer of our clear Dual Base & Top Coat for a salon-standard finish.
To learn more about our new Breathable Nail Polish Formulation, make sure you are following us on Instagram!