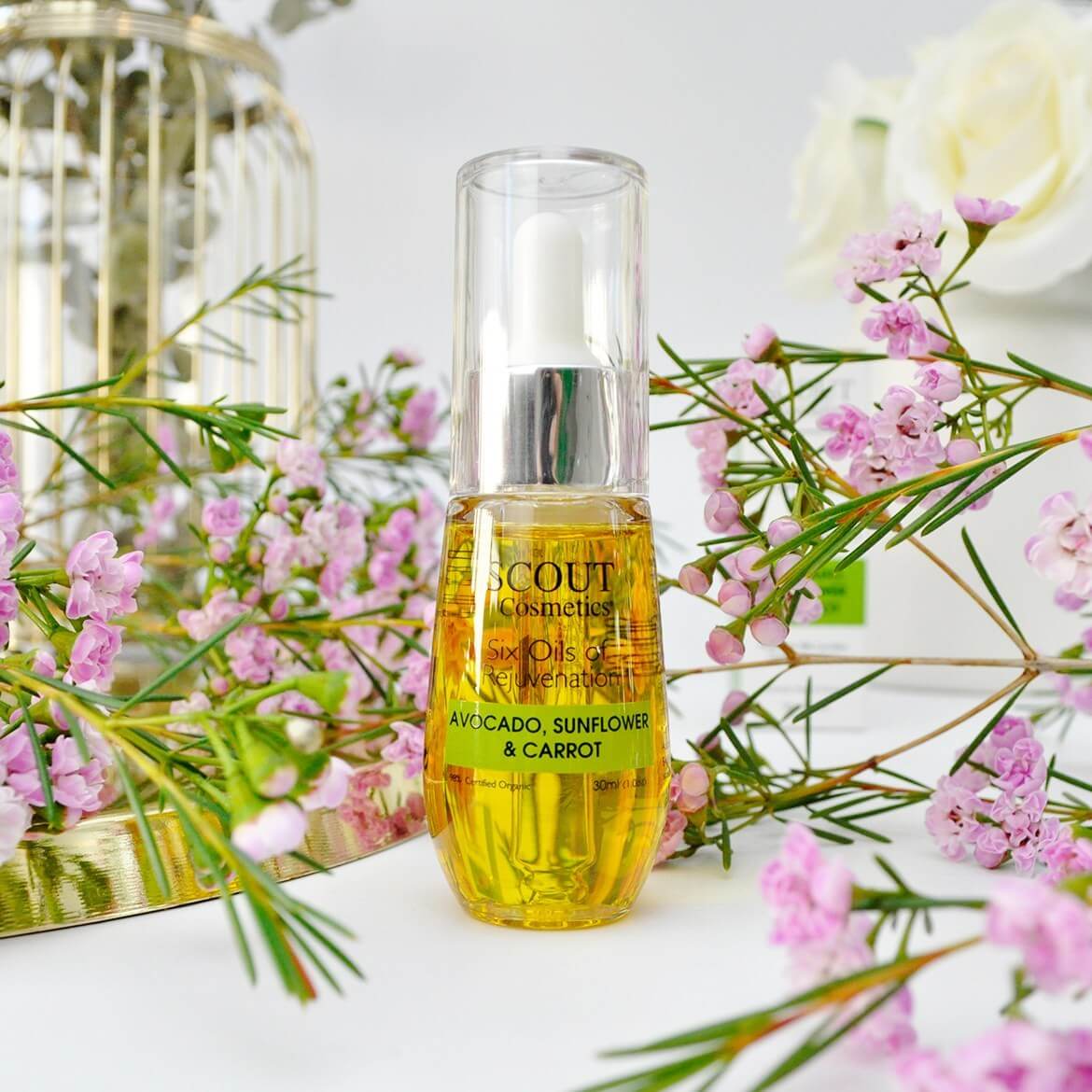 Six Oils of Rejuvenation
Sale price
$59.95 AUD
Regular price
(/)
Skin concerns
Fine lines & wrinkles, Dehydrated skin, Sun damaged skin, Loss of skin elasticity
Our rejuvenate face oil is:

Cosmos Certified Organic and contains 98% certified organic ingredients
Contains multiple special purpose oils
100% Vegan & Cruelty Free
Paraben, Sulphate & Alcohol-free beauty oil
Free of artificial colours and fragrances
SCOUT utilises only Next gen sustainable packaging - great for the planet as well as your skin
Before applying your preferred SCOUT moisturiser, massage 3-6 drops of the oil into your face, neck and décolletage.

As a beautiful night time meditation - simply take a moment – Cup your hands over your nose and mouth and breathe in the relaxing, calming and replenishing oils. It helps to centre and soothe the mind.
Helianthus Annus (Sunflower) Seed Oil*, Oenothera Biennis (Evening Primrose) Oil*, Persea Gratissima (Avocado) Oil*, Prunus Amygdalus Dulcis (Sweet Almond) Oil*, Simmondsia Chiensis (Jojoba) Seed Oil*, Daucus Carota Sativa (Carrot) Seed Oil*, Rosa Canina Fruit (Rosehip) Oil*, Cananga Odorata (Ylang Ylang) 1st Grade Essential Oil*, Tocopherol (Natural Vitamin E 50%) and Rosemarinus Officinalis (Rosemary Leaf Extract*

Read more about how each ingredient helps improve your skin.

Six Oils of Rejuvenation
Sale price
$59.95 AUD
Regular price
Choose options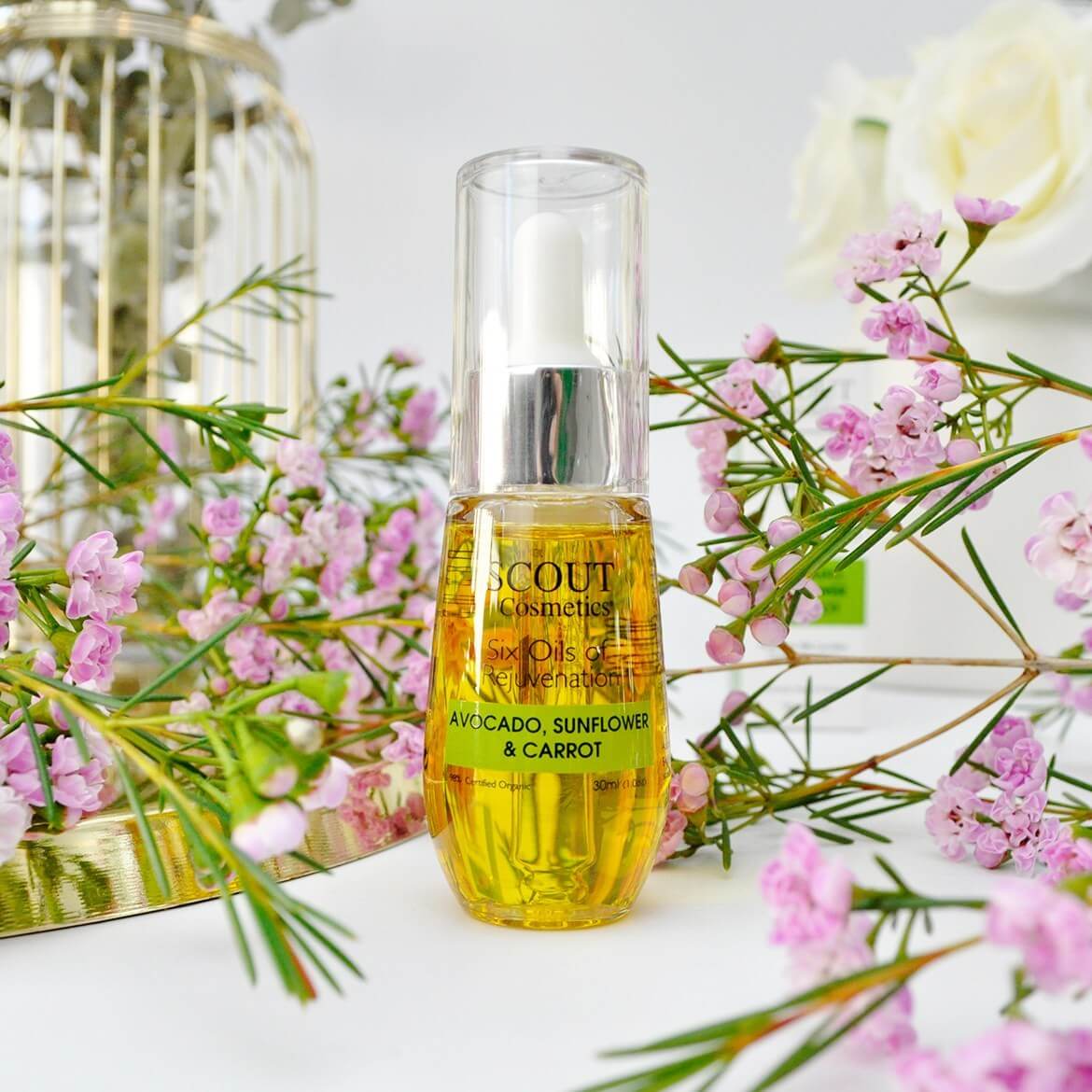 SCOUT Superfood Signature Blend
Desert Lime
Gives the skin a potent boost of Vitamin C for a brighter, healthier looking appearance, while  neutralises free radicals damage and pigmentation.
Kangaroo Apple
It is a potent anti-inflammatory compound that can help heal and lighten acne scars and balance out redness to softened complexion.
Davidson Plum
It is a potent antioxidant that soothes irritated skin stimulating collagen production for firmer, plumper, smoother skin.
Kari D.
This oil is so luxurious, glides on easily, smells divine and leaves my skin soft and glowing. It is now my go to night skin regime.
Desley C.
I have been using this product for a while now and it's great. I have noticed a difference in my skin. I have rosacea and this oil does help. You must use it every night.
Sandy H.
Besides absolutely loving the way the oil feels on my skin I find the aroma very calming and soothing. Bonus!
Benefits
Quickly restores radiance and vital skin health. Soothing an irritated, dehydrated skin. Restores moisture to dry skin and eliminates redness.
This lightweight oil instantly absorbs into the skin, reinforcing the natural lipid barrier, brightening and livening up a dull complexion.
This is the face oil for glowing skin!
The best oils for skin barrier repair and to protect your skin from free radical damage as it helps maintain skin elasticity and firmness.
The holy grail of organic face oils moisturises and repairs skin every day, even sensitive and acne prone skin. Especially restorative to a stressed skin.
Our Organic Face Oil Also Contains
Avocado and Rosemary Oils are antioxidant moisturisers that help boost collagen and promote elasticity.
Carrot Oil contains Beta Carotene and has excellent emollient, conditioning and antioxidant properties.
Evening Primrose Oil has emollient properties and helps moisturise, soften and smooth and improve the skin's overall firmness and texture.
Rosehip Oil has hydrating and regenerating properties, preventing wrinkle formation.
 Ylang Ylang's relaxing notes and toning elements, balancing the skin's natural oil production.
Vitamin E - it is a powerful antioxidant to further prevent premature ageing by fighting free radicals and restoring skin balance.
Which organic skincare products are right for you?
Answer some simple questions and receive your personalised product & skincare routine.
Take the quiz
or
Ask Sylvie
Yes, the organic face oil is fantastic for sensitive skin and has soothing, calming and anti-inflammatory properties.
It is considered the best facial oil in Australia because it helps provide intense hydration and a thin veil on the surface of the skin, combating dryness and improving overall skin moisture levels.

Also contains essential fatty acids, vitamins, and antioxidants that can nourish the skin and provide it with the nutrients it needs to look healthy and revitalised.

The carefully selected oils combine to produce emollient properties which help soften and smooth the skin by filling in the gaps between skin cells, creating a smoother surface and reducing water loss to retain moisture within the skin.
Yes, considered the best facial oil in Australia because it is suitable for all skin types, even sensitive and acne prone skin.
When skin is super dry or just needing a little extra love, the oil can be smoothed and massaged onto the skin prior to applying moisturiser or alternatively a drop or two can be added to your moisturiser (morning or night) to boost its nourishing abilities.
Some people like to use this oil every night, others twice or three times a week. Some add a drop or two to their moisturiser in the morning and others like to add a drop with their foundation.
Yes, the Six Oils can be used during the day. Some people like to add a drop or two to their morning moisturiser or foundation.
No, it will not clog your pores and it will make your skin feel soft and dewy.

If you do not like the slight oil feel, then we recommend you smooth a pump of the moisturiser over the top. 
Rosehip Oil and Jojoba are designed to slow down the signs of ageing and both will help smooth wrinkled skin. Rosehip Oil is rich in Vitamin A which is one of the most potent vitamins for the skin. Both have molecules which are small enough to penetrate deeply into the skin. Helping to increase collagen production and increasing moisture and hydration.
No, SCOUT products do not contain any artificial colours, fragrances, or harmful chemicals. Only pure organic oils and any scent is from the pure organic.