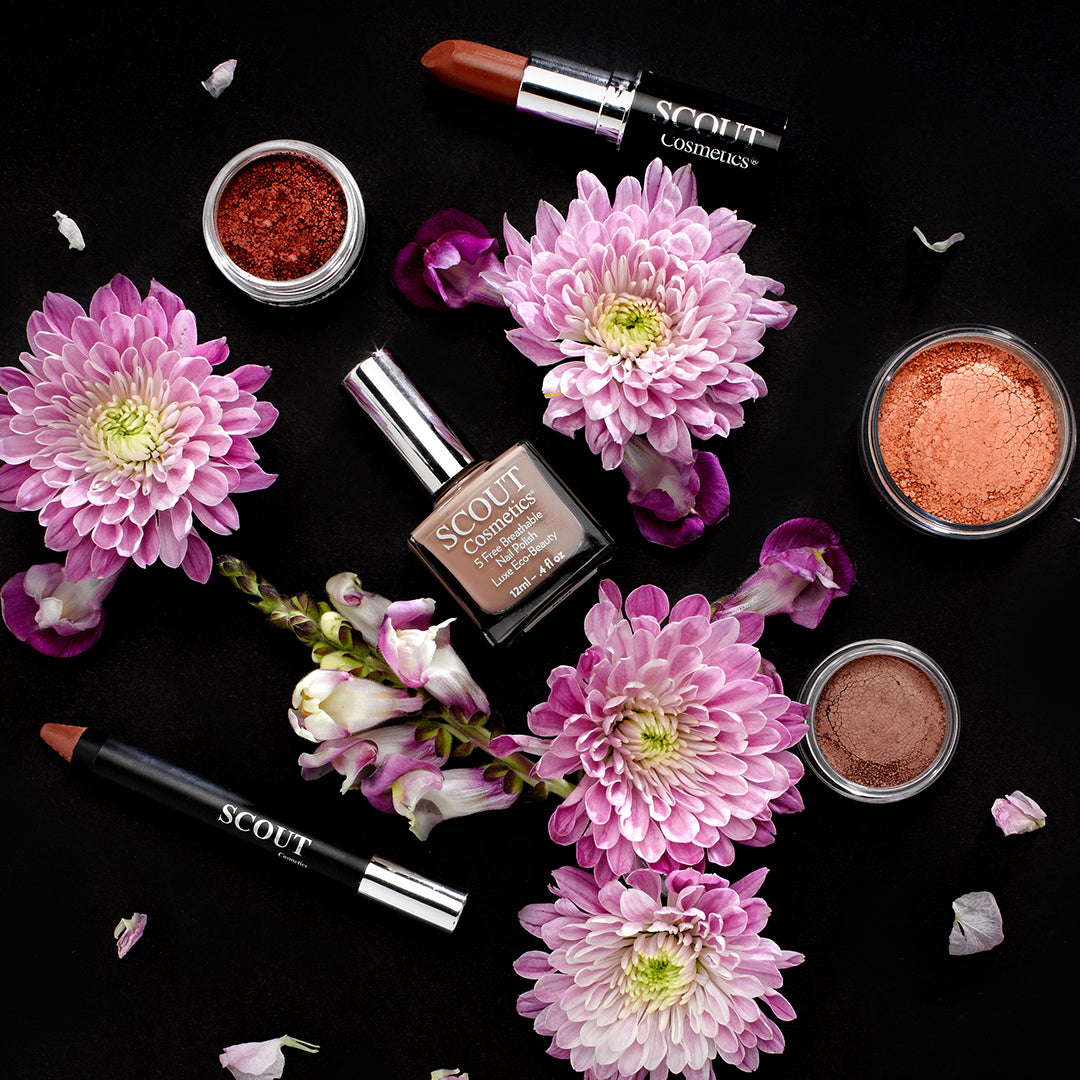 3 Easy Steps to a Pink Spring Makeup Look
Think pink this spring to achieve a natural, fresh and feminine monochromatic mineral makeup look with stunning on-trend shades from Scout Cosmetics.
With the warmer months in full swing, it's time to step away from those darker tones and heavy contouring and embrace a lighter look, that combines a glowing mineral complexion with pink blush, rose eyelids and a creamy lip hue inspired by tulip buds blossoming in the warm spring sun.
Effortlessly achieve this beautiful rosy look this season with Scout Cosmetics, using these three easy steps:
STEP 1: BLOOMING BASE
Any good makeup look starts with a glowing and clear complexion. For the ultimate base first apply our Scout Cosmetics Mineral Pressed Powder over the entire face and neck area, then follow up with a shimmery mineral blush in a dusty pink shade.

Apply your blush with our Vegan Blush Brush in an angular motion blending from the apples of the cheeks towards the temples for a natural-looking rosy glow!
STEP 2: OMBRE EYE
Start by selecting two complimentary light and dark pink eye-shadow shades, I recommend Scout Cosmetics Mineral Eye-Shadow in She and Sunday Girl to create a beautiful two-toned effect on the eye area.

Concentrate the darker hue into the outer crease then dust the paler shade over the inner corner of the eyelid for a pink gradient look, that's pretty and easy to achieve at home.
STEP 3: LOVELY LIPS
Stop worrying about smudging your deeper lip colour this spring and instead opt for a light, creamy pink lip to complete your monochromatic makeup look.

I recommend applying the Scout Cosmetics Chubbi Lip Liner in pink to the entire lip area for that on-trend luminous pink lip look. Our Chubbi Liner also works well as a creamy eye-shadow for girls on the go!
Our range of mineral powder, blush and natural pink makeup products are both lightweight and nourishing, ensuring that you can still enjoy the beautiful sunny spring weather without having to worry about clogging your pores.
For more tips and tricks on how to apply our range of eco-luxe Australian-made cosmetics this spring follow us on Instagram!
- Sylvie Hutchings, Creative Director & Founder, Scout Cosmetics