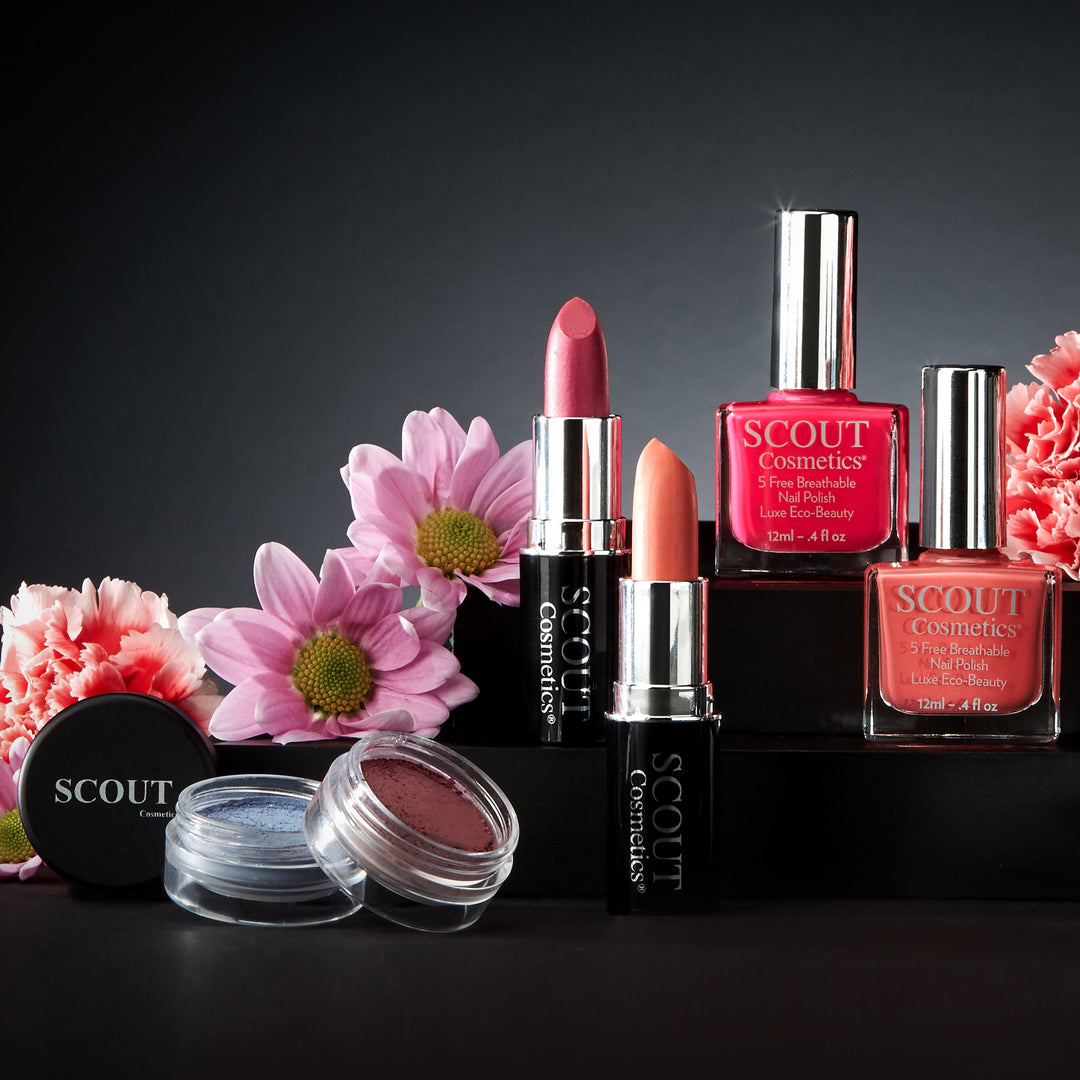 3 Ways to Incorporate Bright Colours Into Your Spring Makeup Look
If you are unsure how to add a splash of colour to your spring makeup look, we've gathered a few of our favourite tips for incorporating new brighter shades.
Brighten Up Your Face with Soft Pink
Adding a touch of colour to your lips is a great way to start experimenting with different bright lipstick shades.

For this, I love to use our lipstick in 'Spring Love' which is a beautiful rosy pinky/peach hue with a light shimmer. Simply dab this lipstick on to your lips and blend out with your finger for a subtle sheer finish.

For a bolder look, continue to layer the lipstick until you achieve your desired intensity - there are no rules, so you can add as little or as much as you prefer!
Make a Statement with Red Lips
To help warm up your complexion, red and orange lipsticks are great options for spring.

Our lipstick in 'Flame' is the perfect sheer orange-toned lipstick with a gorgeous metallic finish. This shade adds a hint of colour to your lips that can easily be built up to be more vibrant.

For a multi-tone look, use our lipstick in 'Love' and add it to the centre of your lips to create a gradient of colour and blend out for an on-trend ombre finish.

Pair this with our metallic beige Mineral Eyeshadow in Sunday Girl, some mascara and a sweep of our Mineral Bronzer to complete your springtime look.
Dress Up Your Lips in Bright Pink
For those who are feeling a little bolder try our bright pink lipstick in 'Captivate' to create a statement lip.

For this look, layering is key so try pairing this with our Lip Liner in Pink to create a long-lasting finish and will help to define and enhance your lips further. Our lip liners are incredibly creamy and easy to apply thanks to the inclusion of jojoba seed oil in their formula.

However, be sure to keep the rest of your makeup neutral to help make your lips truly pop! 
SCOUT Organic Mineral Lipsticks
Our Organic Lipstick Collection not only helps to protect and nourish your lips, but also features a number of flattering and on-trend shades that are the perfect way to brighten and refresh your look for spring. 
Our lipsticks are formulated using organic and natural ingredients that are 100% vegan, free from beeswax, lanolin and petroleum-derived ingredients.

With our lipsticks you can look and feel glamorous and also be sure that you are only applying the safest products that are kind to your skin as well as the environment.
For more spring makeup trends, follow us on Facebook and Instagram and sign up to our mailing list.
- Sylvie Hutchings, Creative Director & Founder, SCOUT Cosmetics.