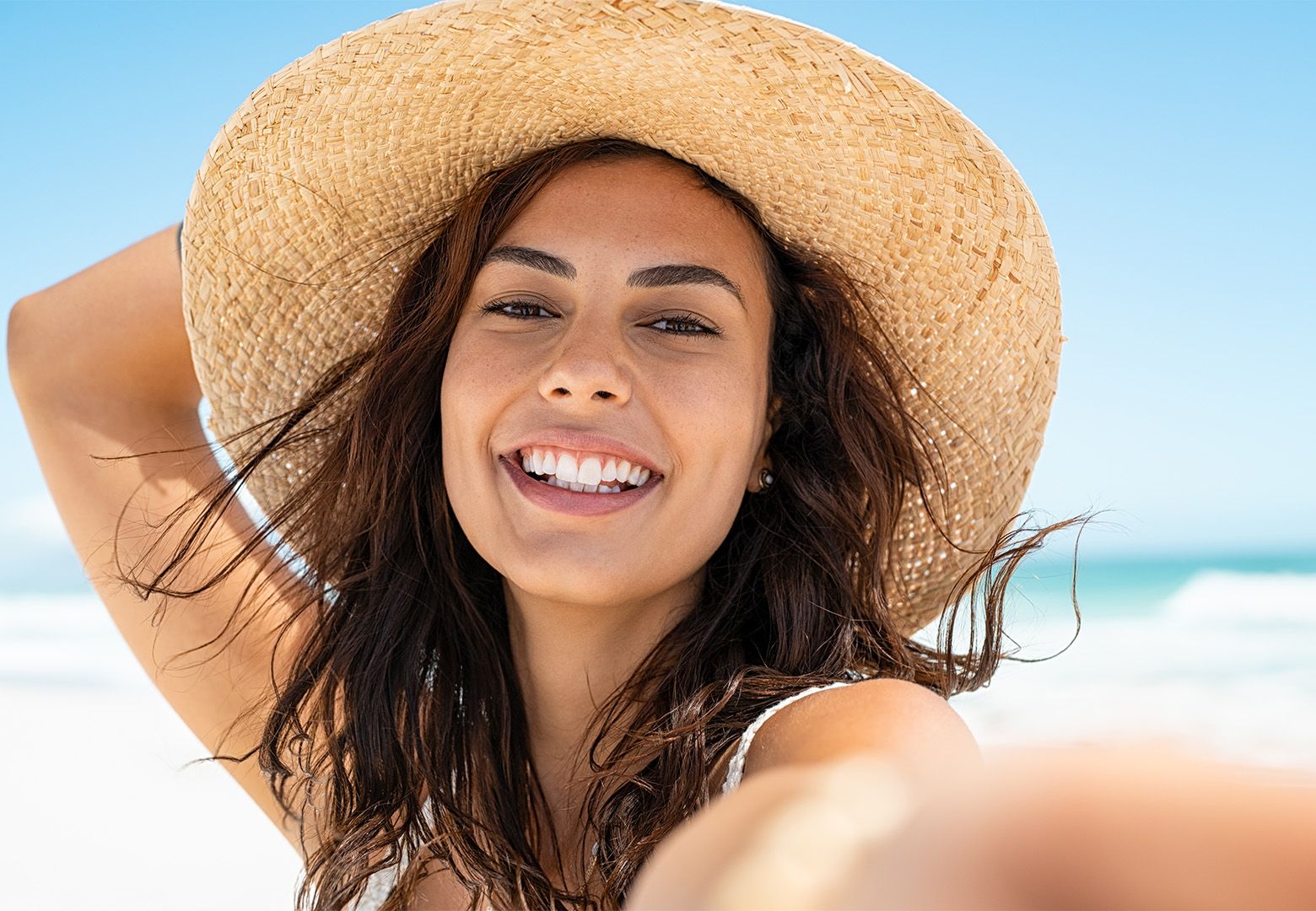 9 Tips for Optimal Summer Skin
Dry skin is usually associated with cold winters, but hot weather, windswept beaches and constant UV exposure can be just as harmful as low temperatures and air-conditioning.
If you already have dry skin, you might experience dry patches, cracks, flaking, hyperpigmentation and even start seeing the signs of premature ageing.
So just as you change your skincare routine in Winter, you should do the same in Summer.
In fact, it is also a good time to do a full review of your skincare routine.
Switching to lighter products that protect your skin from free radicals, pollution and sun exposure is one of the most important but not the only change you should make.
Here are 10 skincare tips for dry skin in summer. 
Check your moles
Once in a while, especially if you've been a beach baby, it is recommended to visit your doctor and get a full-body exam.
On a more regular basis, I have my GP examine moles and marks to make sure they do not look suspect or are changing in any way. 
My olive complexion and Mediterranean heritage means I tan easily but I am also conscious of too much sun.
There is absolutely no point being mindful of dry skin and neglecting the big picture.
SPF, SPF, SPF Never forget sunscreen
This is my big tip for dry skin in summer and, one of the most important ones. Sun and its harmful UV rays are especially strong and nasty in the summertime. 
That's why you need to make sure you diligently use sunscreen every single day and stay in the shade where possible.
I avoid debates about natural sunscreens and just say choose a proven product with a minimum SPF30 and apply it 20-30 minutes before you head out into the sun.
Sunscreen protects your skin from sunburns, dark spots, hyperpigmentation and premature ageing. Yes, you can delay the formation of those fine lines and wrinkles if you don't forget sunscreen every time you leave the house!
Keep reapplying the sunscreen every few hours and after washing your face and swimming.  
Try different types of reliable, quality sunscreen to find one that works best for your dry skin.
Switch to a lighter skincare routine
We usually use heavier products in Winter and layer them, but Summer calls for a lighter skincare routine. With all the humidity, heat and sun, it simply doesn't need all the layers and heavy products. 
Light does not mean poor quality. Light-weight refers to the consistency of the cream, the slip and feel of the product. 
Go with the "less is more" motto and stick to a few simple light products that will take care of excess sweat, keep your complexion fresh and clean and will moisturise without clogging your pores. 
One of the best skin care tips for Summer at home we can give is picking two or three products and putting the rest away in a cool place until the cold season returns. 
You can expect the best results when the products work synergistically, like SCOUT Super Cleanse & Clarify Duo to keep the skin clear, improve its texture, fight against the first signs of ageing and gives a radiant, healthy glow.
Clogged pore from using thicker more occlusive creams can result in irritation, inflammation, and acne. A favourite at SCOUT is our Balance & Replenish Light Moisturiser with Calendula, Red Mandarin & Pumpkin, which helps to balance and calm the skin. It's packed with organic antioxidant ingredients and restores the natural moisture balance to reveal a clear and healthy complexion.
Super Cleanse & Clarify Duo
Double Vitamin C for a Beauty fix
If there's one thing you should add to your beauty routine, it's Vitamin C. It helps prevent hyperpigmentation, increase collagen production, and improves the appearance of wrinkles and fine lines. 
Vitamin C serum is perfect for a summer skincare routine for absolutely any skin as it's lightweight and will not clog your pores, but it is very potent and delivers results fast. Simply apply it after cleansing your skin and before your moisturise. 
Why not try a  double dose of this potent vitamin with the SCOUT Vitamin C Skin Perfection Kit which will give you that dewy glow! The kit includes a serum and a gel, both enriched with nourishing organic ingredients – get ready to see noticeable results.  This duo helps to restore the skin's natural balance, improve the appearance of fine lines, refine the skin texture and target dark spots.  Additionally, this duo helps with skin irritations which can occur in Summer or any time really, and the gel can be used as a spot treatment.
Vitamin C Skin Perfection Kit
 If your skin is super dry and you feel your moisturiser is simply not enough, add a hydrating serum to your routine. You can use it every other day or layer it over your Vitamin C serum you will find this is highly effective in assisting restore a dry skin to optimal health. Hydrating serums replenish moisture, give your skin a plumper appearance and promotes cell turnover which is essential to maintaining healthy supple, youthful skin. 
Choose something light, like SCOUT Cell Renewal Peptide Serum with Green Tea, Ginseng and Fig which restores skin youthfulness and fights against the first signs of ageing.
Cell Renewal Peptide Serum with Green Tea, Ginseng and Fig + Niacinamide

Don't forget to exfoliate
Sensitive and dry skin might not react well to too much exfoliation in Winter, but in Summer, we tend to sweat a little more, which leads to clogged pores, so you might want to increase the exfoliation frequency. 
Exfoliating removes dirt, sweat, grime, and dead cells, allowing your skin to renew, breathe and absorb your skincare products more efficiently. 
While you do want to exfoliate more, make sure you still use gentle products or incorporate exfoliation tools like SCOUT Skin Therapy Glow System to protect the skin from injury. 
The glow system device with Sonic + Thermal technology and natural Rose Quartz stone gently cleanses and massages your face and takes care of even the hard to reach areas. The result is radiant skin all Summer long. 
Rejuvenate your skin after sun damage
This step may be something you do at the end of Summer but if you have been careful and diligent with sunscreen and skincare, Summer probably hasn't done too much damage. However, by the end of Summer we often find out that our complexion is a little uneven and our skin drier than usual.
This is when I put a call into my Aesthetician, late Summer is a great time to go for a facial to revive your skin.
Summer calls for Light Foundation
If you use foundation regularly, you might want to switch your heavy matte product to a lighter one that won't clog the pores, has hydrating ingredients and allows the skin to breathe during the hot summer months. 
A light foundation won't create that awful mask-like layer on your skin and won't cake up after spending some time in the heat. 
Try SCOUT Organic Healthy Glow Fluid Foundation with Rose & Grapefruit with light to medium and buildable coverage, perfect for dry skin, evens out the skin tone and gives that natural glow.
The vitamins and antioxidants in the product help reveal a healthy-looking, radiant complexion and help slow signs of ageing.
Lower your shower temperature
I love a hot shower and find them quite relaxing especially in winter but in reality, they are not great for your skin as hot water can strip the skin of natural oil and will cause dryness. 
Summer is a great time to shower with tepid or cold water and protect your skin, so skip that steam and go for a bit of chill! 
Seriously think about getting an
air humidifier
If your skin is dehydrated, you might benefit from a humidifier in your office and home, especially if you're regularly using an air conditioner.
Air conditioners dry out the air, and the first thing that suffers is your skin.                                                                                
Eat antioxidant-rich foods
What we eat is just as important for skin health.  Making sure you eat lots of fresh fruit and veggies to ensure proper skin hydration from within, will help ensure dry skin is being nourished.
Antioxidants in fresh produce protect your dry skin from environmental pollutants, free radicals and give you a healthy natural glow.
Think colour when looking for vegetables, take advantage of all the beautiful berries, greens, broccoli, cabbage, capsicum, cucumber and yellow toned fruit such as apricots, mangoes and others while they're in season!