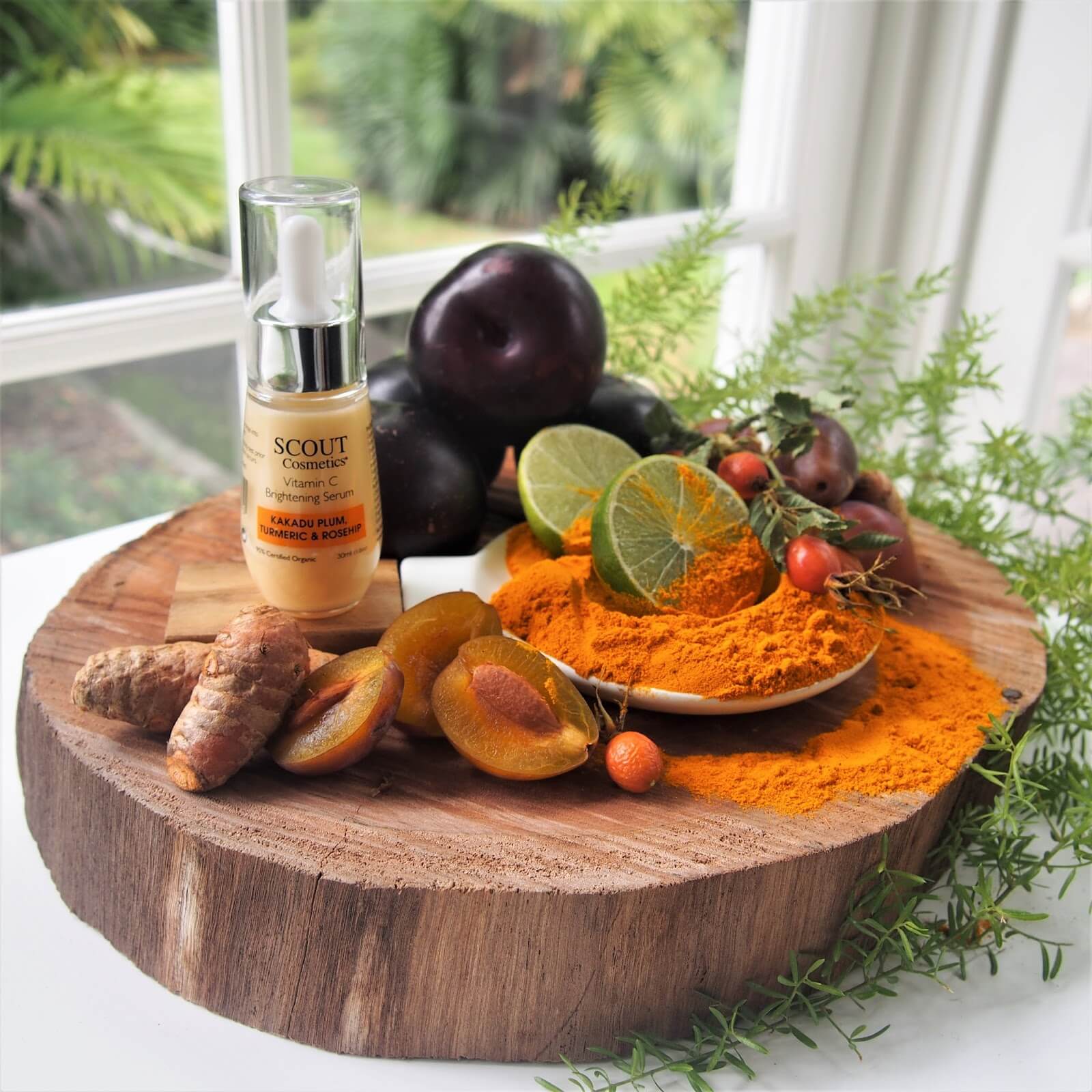 How to Wake up With Healthy & Glowing Skin
Does your skin sometimes feel like it has 'lost that glow' – dull, angry and just needs a boost? Or do you feel a little too self-conscious of pigmentation spots that seem to persist and you just want to wake up with skin feeling soft, refreshed and healthy?
Then you deserve these two Supercharged Vitamin C heroes of our superfood skincare range to give you back your glow – while you sleep. Used individually or layered, they will become a key component of your skincare regime.
Often when we are faced with a skin issue we tend to rush into finding a solution and trying a host of different products. Doing this we find that in fact we are over treating and often exacerbating the original issue. Sometimes this even creates another problem and off we go on the cycle again. When creating the SCOUT range, I wanted an honest skincare that simply worked and to reduce the amount of products needed for a skincare regime. 
Vitamin C is a super antioxidant that can help protect your skin from UV rays, pollution and free radicals impacts, making it a must-have ingredient to help combat stressed, spotty and sun-damaged skin.
All in One Radiance Gel
Our supercharged night-time Vitamin C Skin Perfecting Radiance Gel was formulated with just you in mind.
It's a Serum / Treatment / Sleep mask all in one. 
Keeping true to our philosophy of combining the best of Australian nature and cosmetic science, we came up with this potent Vitamin C gel. Infused with  evidence backed Australian super foods, botanicals and combined with hydrating Hyaluronic Acid. 
Built upon a foundation of Vitamin C in the form of Sodium Ascorbyl Phosphate, the Skin Perfecting Radiance Gel is rich in super fruits Emu Apple and Lilli Pilli which come together to add a depth of radiance, clarity, and refinement to your skin, typically after only a few days of use.
The combination of Cucumber, Calendula and the Ayurvedic herb Gotu Kola ensure this super gel will soothe, restore, and reveal a youthful, refreshed skin.
Utilising Licorice Extract, an absolute no brainer, with so many wonderful benefits for the skin. Its active ingredient Glabridin, which assists with pigmentation caused by sun damage, helping to brighten and supports the antioxidant and refining action of Vitamin C. 


Shop

 Skin Perfecting Radiance Gel with Lilli Pilli, Licorice, Emu Apple and Vitamin C 
Here is what our customers had to say after trying Skin Perfecting Radiance Gel:
Really nice product. Makes my skin soft and supple and works beautifully . I must say I love both Scout Vit C products
-Chris K. 
This is a true product. I My skin was looking tired and old. This has made a difference in a short time to the look and feel of my skin. Very little needed also'.
-Denise
Rejuvenating Skin Serum
Our best-selling Vitamin C Brightening Serum with Kakadu Plum, Turmeric & Rosehip is a rejuvenating skin brightening serum, rich in Vitamin C that works to help stimulate collagen and elastin production for a youthful, more radiant appearance. 
Perfect for those with sensitive skin conditions like acne, rosacea or eczema. The combination of anti-inflammatory and brightening ingredients will leave the skin plumped, restored, and glowing.
Shop

 Vitamin C Brightening Serum with Kakadu Plum, Turmeric & Rosehip 
If you like me sometimes 'really want to get your glow on', I recommend our Vitamin C Skin Perfection Duo which includes both our Vitamin C Radiance Gel and Vitamin C Brightening Serum.


Tips for Application
We found using both the Gel and Serum together over a period of 2 weeks with excellent results. By layering these two power-packed formulations you are going to get some serious results. A double dose of Vitamin C with Gel & Serum to restore the skin's natural balance and to improve the appearance of fine lines. 
If you are new to the SCOUT Active range, start by introducing your skin to this slowly. Begin with every 2nd night by applying 1 drop of the Brightening Serum and 1 pump of the Skin Perfecting Gel and build up to 2 drops of the Brightening serum (morning and night) and 2 pumps of the Skin Perfecting Gel every night for super radiant skin.
Continue applying nightly for at least 4 weeks and you will really see results, then you can drop down to using the Skin Perfecting Radiance Gel twice a week or if you like, you can continue using it nightly. I do and love it!!
For more information about our Vitamin C Skin Treatment Kit, click here.
Sylvie xx