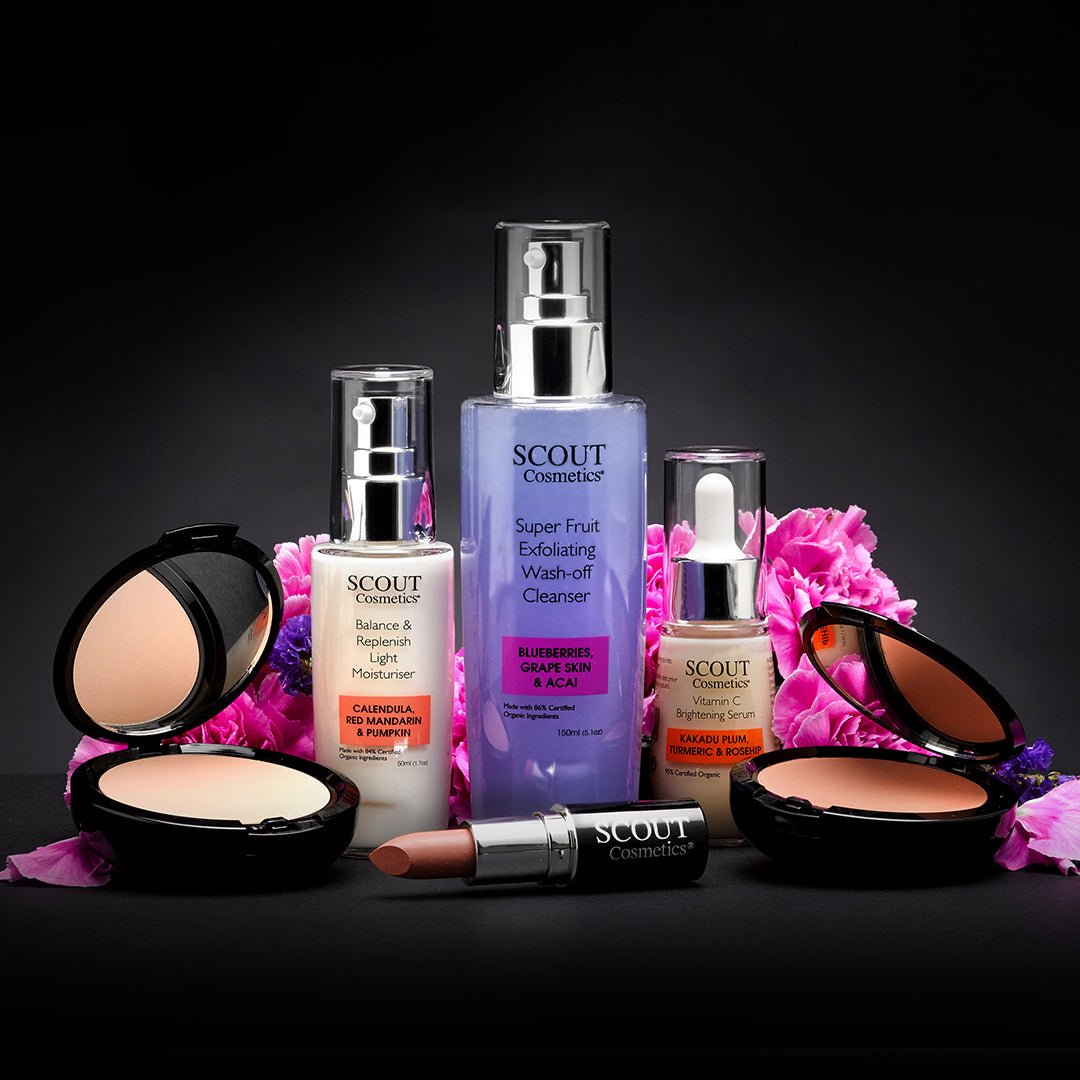 3 Steps to Building the Ultimate Winter Skincare Routine
One of my biggest pieces of advice to help look after your skin in the cooler months is to be incredibly gentle with your skin.

As winter means drier, colder weather and less humidity to keep our skin hydrated, you may find your complexion feeling tight, dry, or sensitive. To combat this, our beauty routines may need some adjusting to be full of nourishing and protective products, like our SCOUT Organic Active Beauty skincare collection.

To help you get started, here are 3 steps you should take to create a fool-proof winter skincare routine using some of my favourite products from our range.
1. Upgrade Your Cleanser
When your skin is feeling dehydrated, we often think to first blame our moisturisers for being ineffective and not hydrating our complexion properly. However, the culprit can sometimes lie in the first step of our skincare routine – our cleanser.

During winter, your usual cleanser may become too harsh for your skin and start to strip away important oils that are essential for keeping your skin balanced and healthy.

I recommend using a cream-based cleanser like our Daily Revitalise Cleansing Crème. This cleansing cream is full of nourishing natural ingredients like Coconut Oil, Aloe Vera Juice, and Lemon Myrtle, that work to gently and effectively cleanse your skin while keeping your complexion feeling hydrated, soothed, and refreshed.

With the added antioxidant benefits of Kakadu Plum and Papaya Extract that provide gentle exfoliation to improve skin texture and clarity, this cleanser helps to reveal brighter, revitalised, and smoother looking skin.
2. Replace Your Moisturiser
Another great tip to remember in winter is to switch your regular moisturiser to one that is richer or thicker in consistency to help keep your skin hydrated throughout the day.

My favourite moisturiser to use is our Nourish & Hydrate Moisture Defence Crème. Harnessing the natural benefits of White Tea and Pomegranate, this moisturiser offers long-lasting hydration while also helping to stimulate collagen production and soothe the skin.

Pomegranate Extract, in particular, is fantastic for the skin as it is a superb antioxidant rich in Vitamins A, B, C and K, with astringent, anti-bacterial, and anti-inflammatory properties to help protect the skin from free radical damage and premature ageing.

Our organic face cream is also infused with organic Coconut Oil, Macadamia and Shea Butter to nourish and restore your complexion to help your skin look and feel plump, rejuvenated and more youthful.
3. Add a Face Serum
I always like to ensure that any skincare routine includes a serum. Face serums are a great way to target a number of skin concerns, as they are a powerhouse of concentrated and powerful ingredients.

I recommend our Cell Renewal Peptide Serum as it contains a number of organic and natural ingredients like Green Tea, Ginseng, and Fig to help fight against dullness, dehydration, and the first signs of premature skin ageing.

It also contains Perfection Peptide 7 and Matrixyl Sinthe'6, which are both peptides that have been scientifically proven to increase collagen production and cell turnover, helping to combat the appearance of deep wrinkles.

They also work to replenish the skin's lipid layer, leading to smoother texture and more revitalised appearance. I like to use this serum both in the morning and evening before layering one of our SCOUT moisturisers on top for a nourished and hydrated complexion.
For more information on how to protect your skin in winter, read our latest blog post where we share the best 4 ingredients to keep your skin healthy and hydrated.

Be sure to also follow us on Facebook and Instagram for more skincare insights!
What changes do you like to make to your skincare routine in winter?
- Sylvie Hutchings, Creative Director & Founder, Scout Cosmetics