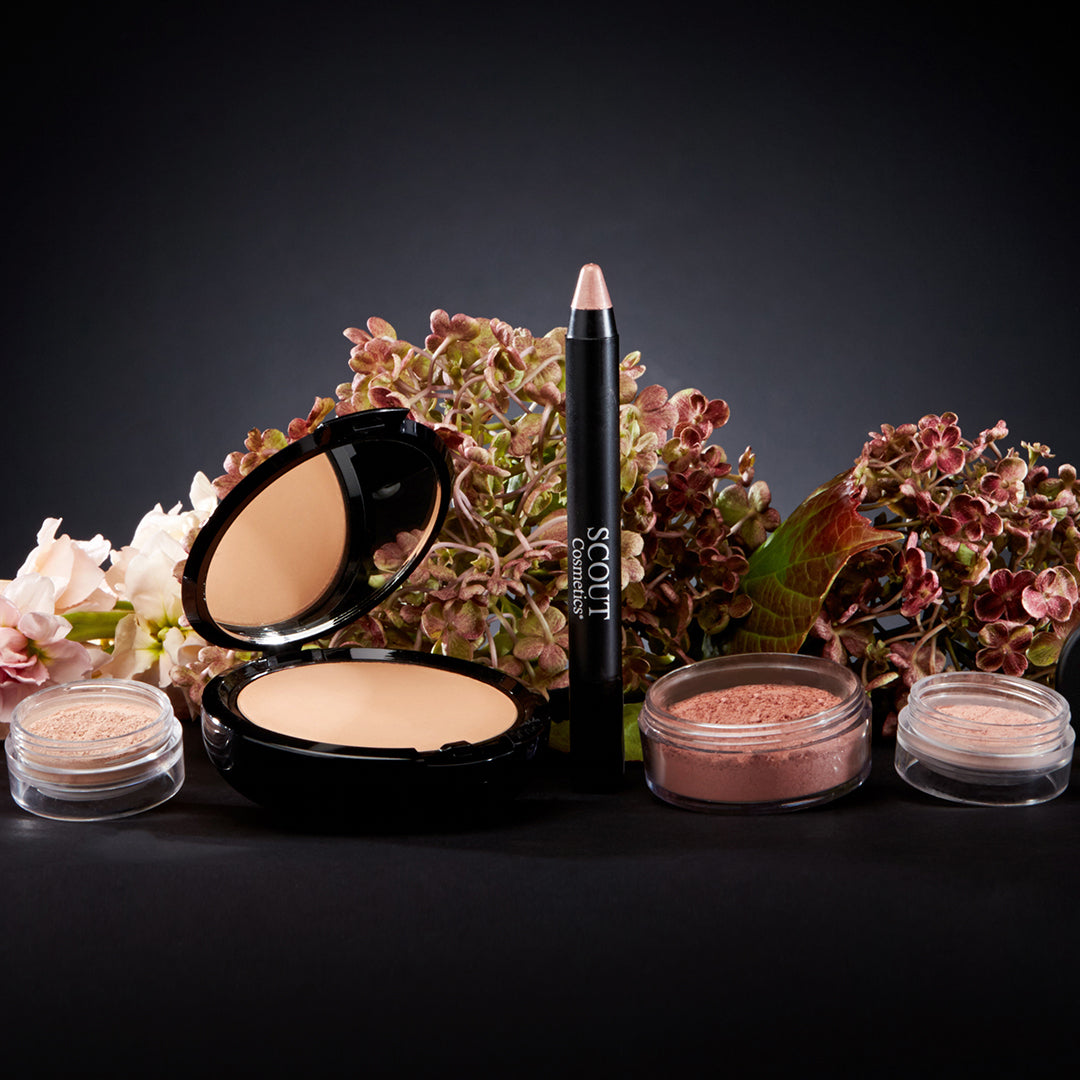 How to Use Pink Colours in Your Summertime Makeup Routine
Embrace the month of love and look effortlessly chic with our collection of peachy pink and shimmery cream mineral makeup. Soft and feminine hues including French pink and subtle peach are some of my favourite beauty shades and they're making a big comeback in the beauty world.
To stay ahead of the beauty trends this season I encourage you to try a combination of peachy lip looks combined with a glowing cheek, nude eye, and an elegant pink manicure for the ultimate monochromatic feminine finish.
STEP 1: COMPLEXION
Perfect your complexion with a liquid foundation and pressed powder to even out your skin tone and hide any blemishes or discolouration. Follow this by applying our mineral blush in Sincerity across the length of your cheekbone.
Next, I highly recommend layering our mineral highlighter over your blush to achieve that peachy pink dewy glow; try applying our it to the high planes of your cheek, your cupids bow, and on the sides of your forehead and along your temples to make this wider area appear narrower.
STEP 2: EYESHADOW
Continue subtly contouring and add a matte pink eyeshadow (like our Mineral Eyeshadow in She) across the entire eyelid, working deep into the crease and building on the intensity with every application.

To add creamy definition to the eyes finish off by sweeping one of my favourite eyeshadow shades "In the Flesh" underneath the arch of your eyebrow and to the inner and outer corners of your eyes.

Alternatively try applying Scout Cosmetics Illuminate (with a small eyeshadow brush) to the inner corners of your eyes to create a bright, open, and youthful appearance, perfect for day or night.
STEP 3: LIPS
Finish off your monochromatic peachy pink look and perfect your pout using a lipstick in a pretty peach shade such as our Vegan Organic Lipstick in Courage.

Our range of lipsticks offers sheer and subtle shades contains nourishing orange and hydrating jojoba, Vitamin E and Shea Butter.
STEP 4: NAILS
Finally, pair your peachy pout with a light pink pop of polish such as one of my favourite Breathable Nail Polishes – Just Like Heaven (it's also one of our best-sellers).

Don't forget our polishes also offer a delicate scent of essential oils which always reminds me of the days spent mixing home-made beauty remedies with my mum when I was a young girl.
For additional inspiration on stunning looks you can create this summer, follow us on social media!
- Sylvie Hutchings, Creative Director & Founder, Scout Cosmetics